Monday September 24th, 2018
If you've somehow secured yourself tickets to the biggest game in town, the AFL Grand Final, hats off to you. For the rest of us that need to watch the game on a screen, it's time to gather the crew and scout the best place to watch the game on the day – and we've got two corkers for you, right here in South Wharf.
Back by popular demand, Boaties will be throwing the biggest Grand Final screening, which saw 800 footy fans scattered across their beer garden last year.
Entry is free and their Grand Final Party kicks off at 12pm with handball competitions, $20 jugs of Carlton Draught and an additional menu of crowd pleasing favourites including meat pies, hot dogs, loaded tater tots and poutine. Keep the festivities going after the final siren with a DJ spinning the decks into the night.
Come early to reserve the best seats in the house or make a booking for your crew of 6 or more for kick-off. Boaties will be screening the Grand Final on the outdoor big screen as well as 5 other screens around their massive waterfront beer garden.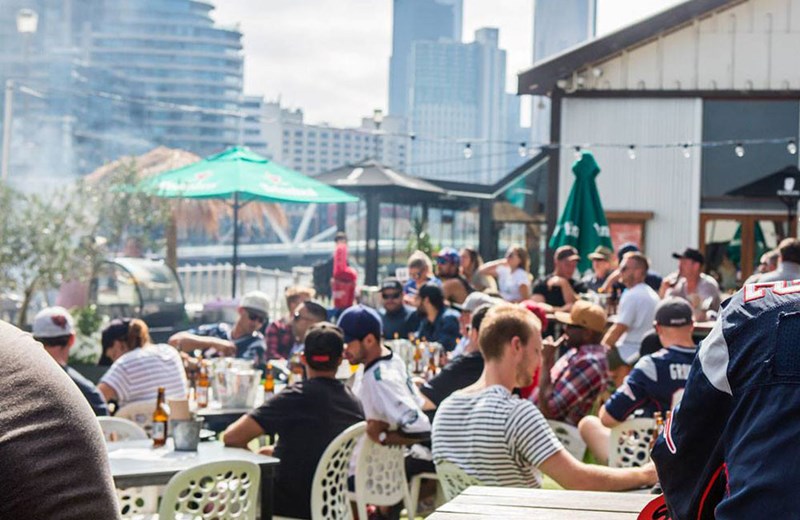 Common Man will be playing host to a great Aussie tradition from 11am on Saturday 29th September.
Watch the game live on their big screen and enjoy a day of pop-up BBQ and smoked meats by the Common Man Chefs plus craft beer, wines by Redbank and cocktails by Jameson and Absolut. Beers in buckets, cocktails in jugs and wine in bottles. Madness.
Live music from 11am to build pre-game atmosphere and prizes and giveaways all day long.
Common Man's family friendly event is a great way to kick off spring in style and get together with friends and family in a central location.
Select from a General Admission ticket with a drink on arrival ($10 + bf) or BBQ platter and drink ($32 +bf). Kids are free.
Or book reserved front row seating options for only $40 +bf, which includes BBQ platter and drink + choice of traditional party pies or sausage rolls at half time. Kids $8 (under 12) also includes a sausage and soft drink.