Tuesday August 29th, 2017
Heading down to Bang Pop for a Thai Cooking Class was something I was very much looking forward to. I parked at the DFO parking which ended up costing $20, but you can get half price parking voucher from Bang Pop (if only I knew), so make sure you ask before you leave. $10 is a bargain for parking these days!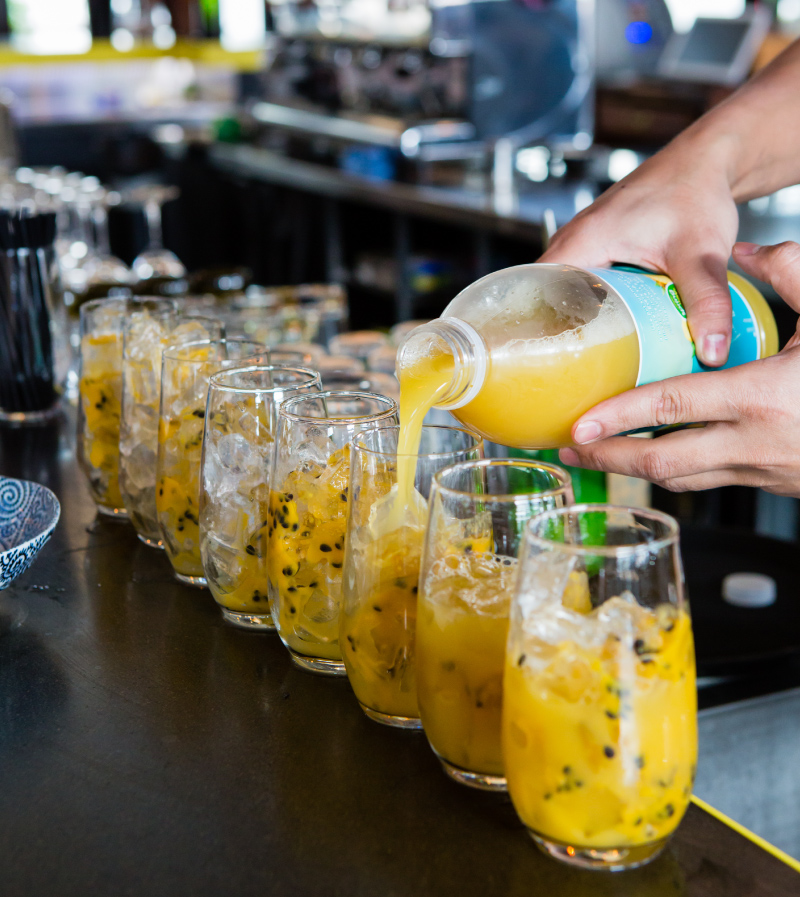 We were greeted at the door with fresh drinks of orange juice and soda water which incredibly moreish. We got our spots, aprons were tied on and the anticipation to get learning and cooking was fast upon us. The class was fully booked out and everyone was lovely, chatting through the whole morning class.
We were then introduced to the head chef and his sous chefs. The head chef was charismatic, fun and taught us plenty. One big thing I learned was to not soak your noodles in hot water, they should be soaked in cold water. Blew my mind. Labelling on packs need to change!
Papaya Salad
We quickly learned that we were given a leg up as all our ingredients are prepared for us, so the hard work is practically done. Head Chef then gathers everyone around his table at the front and he slowly goes through each step. Peeling the papaya with one of the best peelers I have ever used. Not your ordinary peeler. After slicing and dicing, all the ingredients we were ready to be put together. Get out your mortar and pestle and get crunching, mixing and tasting. This salad is super fresh and delicious. We set that aside and then moved onto our Pad Thai.
Method:
Peel papaya and shred the flesh. Cut tomatoes in half and chop the snake beans.
Put chili and garlic into the clay mortar and pound. Add the snake beans and cherry tomatoes. Pound beans and tomatoes to release their juices.
Add the palm sugar, fish sauce, lime juice and shredded papaya. Mix with a ladle to well coat everything.
Place on plate and top with shrimp and peanuts. Serve with sticky rice.
Pad Thai
The main event, it was certainly what everyone came for and we were not disappointed. This incredibly tasty dish is actually super easy to make. Head Chef again, gathered us around his table as he explained exactly what we needed and why. Again, all ingredients were ready for us to drop in and cook with.
We fired up the gas stoves and got cooking. Whilst an easy dish to put together, you can see that making the perfect Pad Thai takes time to craft.
Method:
Heat wok and add oil. Once the oil is hot add the egg and scramble.
Add the pickled turnip, tofu, dried shrimp and stir until brown.
Add noodles and stir until cooked through. Then add the tamarind paste, fish sauce and sugar, mix well. Add the bean shoots & garlic chives. Stir for a few more minutes. Once cooked add to a bowl.
Garnish with roasted peanuts, dried chilli and fresh lime.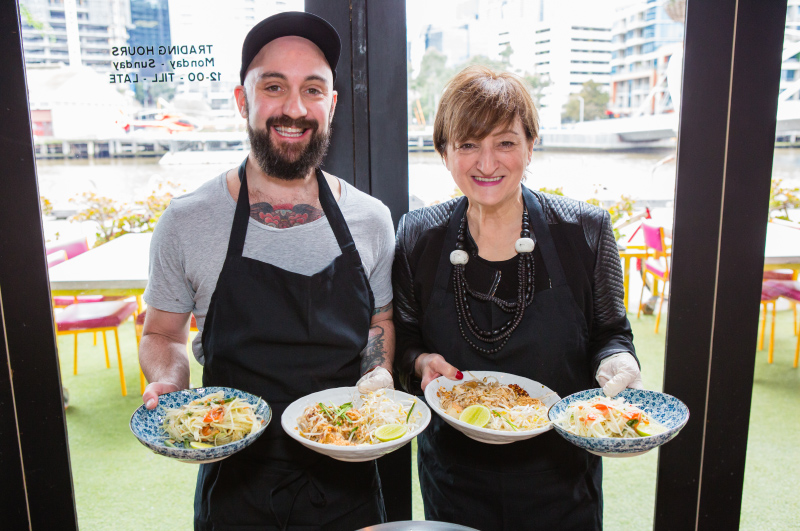 Summary
The Pad Thai was perfect on a freezing morning in Melbourne and got everyone fired up to eat.
Once completed we took these two dishes outside to a table that was awaiting us all. We were offered white and red wines as we sat as a group, chatted, laughed and ate our delicious food.
This is a must do for all you foodies out there. A fun morning was had which set us up for a perfect afternoon.