Thursday June 8th, 2017
The most fun you'll have while falling on your arse.
Winter is here, what's fun about that? Funny you ask, get ready to skate, slide and chill.
The friendly folk at Common Man South Wharf have built an arctic oasis right here on South Wharf, complete with undercover riverside ice rink, toboggan slide & chill out zone.
With family passes available Skate, Slide and Chill, is fun for the whole family. Warm up with a yummy hot chocolate then head back on the ice. For those of you not so comfortable on two legs your tickets include access to a toboggan slide & kangaroo ice skating training wheels! We recommended Funday Sunday & with every children's ticket, receive a free candy bar or piece of fruit, plus face painting will be available for a gold coin donation.
How about some grownup fun? Once you're done showing off your triple axel, triple toe! Hit up the Absolut Vodka & Lavazza Coffee & chill out zone. Sip on a an absolute cocktail or get into a refreshing Kronenbourg lager. You're sure to have worked up an appetite out on the ice, warm up with with gourmet pies, hots dogs and donuts, and the infamous South Melbourne Market Dims Sims.
Rocky Balboa won Adrian's heart out on the Ice and if the Italian stallion can do it so can you. Grab a couples package for date night Thursday which includes 2x skating passes & 2x cocktails on arrival, It will get you talking smoother than Sly.
Discount Monday's are available for all you bargain hunters! Skating is sure to hurt a lot less when you slip & land on a wallet still full of cash!
Cut a groove through the ice with RnB Fridays! DJs will be blasting hits from the 80s through to today! Once you are done on the Ice the party will be just getting started. Hit up the Absolut vodka bar or move on for dinner & happy hours at one of your favourite South Wharf waterfront bars.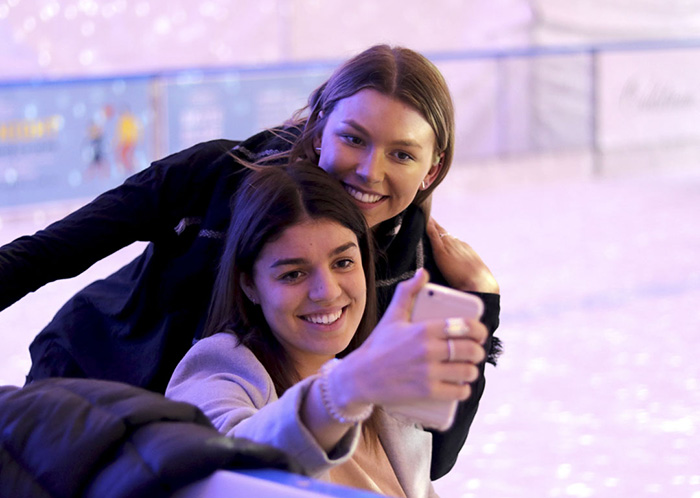 Teach me Tuesdays! More details for this will be coming soon, however if you are not confident on the ice but would like to learn the basics this sesh is for you. You probably won't be going for gold in the figure skating but we reckon you would be in with a chance in the speed skating. #StevenBradbury
Normal Trade
Monday to Wednesday: 5-9pm | Thursday & Friday: 4-10pm | Saturday: 12-10pm | Sunday: 12-8pm
School Holidays (30 June – 15 July)
Monday to Wednesday: 12-9pm | Thursday & Friday: 12-10pm | Saturday: 12-10pm | Sunday: 12-8pm
Queen's Birthday: 12-10pm
Cost:
Adults $24.50 | Kids (6-14) $18.50 | Kids (3-5) $15 | Student $22.50 *Must bring student ID
Family Passes:
1 Adults 2 Kids $52 | 2 Adults 2 Kid $69 *kids = 3-14yo
Group Pricing: Booking of 10 Adults $210 | Booking of 10 Kids (6-14) $155 | Booking of 10 kids (3-5) $130