Tuesday January 30th, 2018
If you haven't organised a day off next Monday then you should do so right now as South Wharf is pleased to present a pair of options for you to enjoy the biggest game in sport – the Superbowl.
We have two venues holding parties, each with special offers and atmosphere, so gather a group of friends and head down to one or maybe even both. This year we will see the Philadelphia Eagles take on the New England Patriots at the Minneapolis Convention Center and it is bound to be an epic battle.
The New England Patriots' Tom Brady will be gunning for his fifth title while the Philadelphia Eagles will try to steal his thunder. With one of the greatest quarterbacks on their side, the Pats may just pip them in the end but we'll have to see how things unfold on the day.
The first Superbowl was held back in 1967 and since then it has become a huge part of American culture and inherently a part of western culture around the globe. With a massive TV audience of around 110 million in the US alone and 50 or so other millions across the globe, the event is one of the biggest sporting events in the world and the most anticipated in the US.
If the game isn't enough, there are the adverts that are played throughout the coverage. In most cases, advertising can be nothing more than an annoying distraction but not during the Superbowl. In fact, almost half the people that watch the game do so because of the ads hence the very hefty rates.
At over $5 million per 30 second spot the companies who show-off their wares during the game pull out all the stops to produce not just any advert, but in most cases an immensely entertaining work of art.
Secure a Superbowl Package at Common Man
The game will be showing on the super screen at Common Man with food and drink specials on offer throughout the day. There will also be a door prize so dress in your favourite team colours to go into the draw to win one of the competing team jerseys. 
Entry is FREE but seating is first come first served, however, you can secure a spot by booking a package below:
Super Bowl Package Tickets Inclusions:
Reserved Table (minimum of four people per booking)
Choice of: 3 x Coors Lager or 1 x Espresso Martini
Your choice of Beef Brisket, American Beef Burger or Southern Style Chicken Burger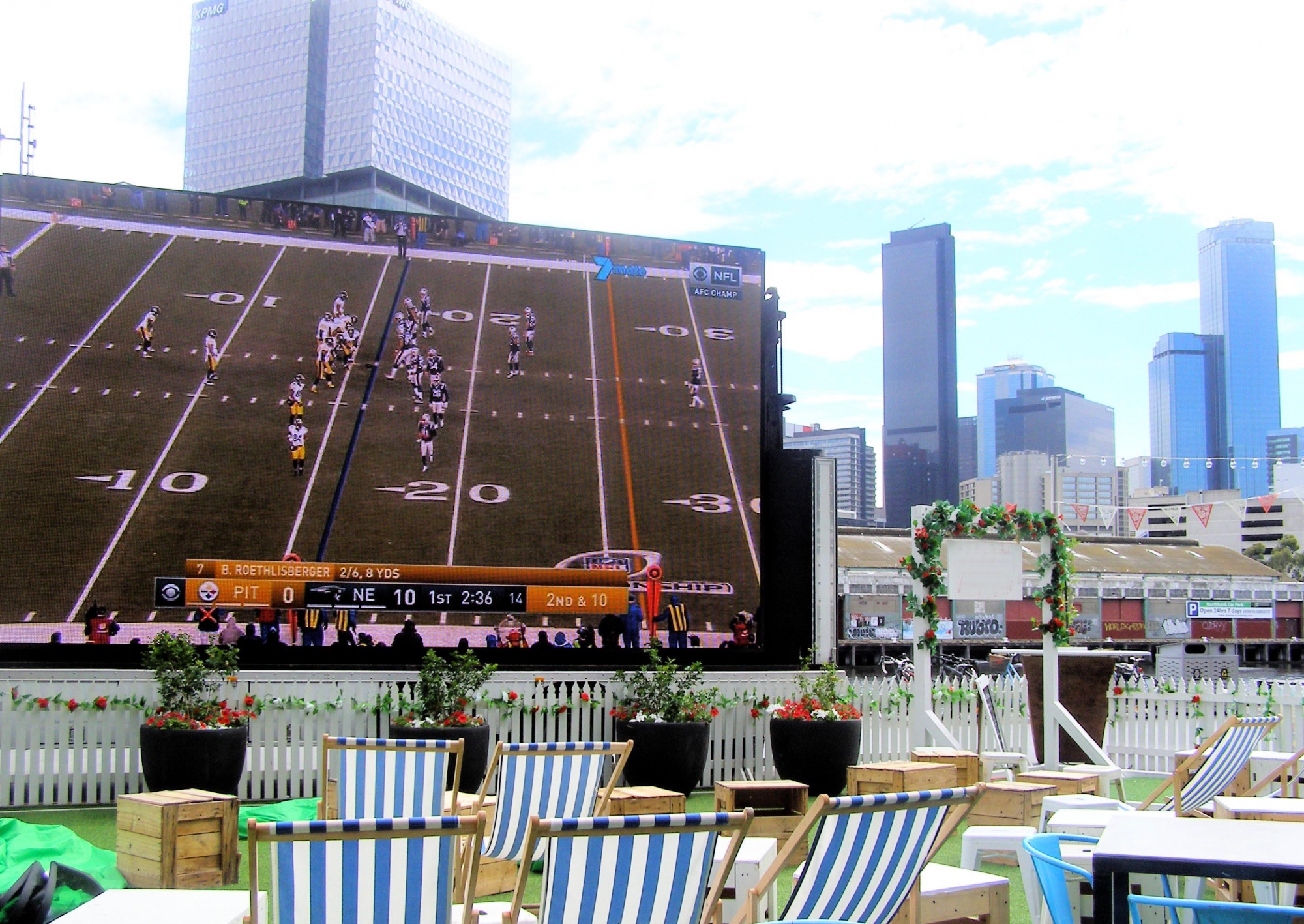 Food and drink specials available to all From 9am:
Coors Lager buckets of four beers – $20
Beef brisket, American beef burger, Southern-style chicken burger all served with Southern-style slaw and fries – $15 each
Fried organic buttermilk chicken drumettes served with our secret hot sauce – $12
Loaded fries and onion rings – $8 each
Coors Lager bucket of four, chicken wings, onion rings and fries combo – $38
No FOMO Superbowl at The Boatbuilders Yard
From 9am you can snag yourself a prime position in front of Boaties' big screen, with the first 10 people through the gate receiving an exclusive Budweiser pack including a cap, jersey, NFL ball, and big foam fingers.
PLUS, follow us on Facebook @TheBoatbuildersYard for a special Superbowl giveaway kicking off soon. #NoFOMOSuperbowl
Will the Eagles carry away the trophy or will Brady and the Patriots win in all once again? Join us down at South Wharf to enjoy the action!