Thursday July 13th, 2017
What to do on a Melbourne Winter's day, lock yourself away in a beer house of course!

The Taps
Let's get straight to business. 49 beer taps, with 15 beers on tap & rotating guest taps. This is sure to keep you and your drinking buddies busy for a little while. A range of bottled beer options are also available in the fridge. My recommendation, start with something light and work your way down colour chart. Take the pressure off the bank account with $20 beer jugs every weekday from 4pm – 7pm.

The Guest Tap
A little something for you beer nerds. The General Assembly has some more craft oriented brews on their their rotating guest taps. Nothing like getting a locally produced craft beer directly from the tap. Phat Mongrel Oatmeal Stout by Fox Hat Brewing Co. The perfect beer for the colder winter months, rich creamy head, roasted malts, bitterness & chocolate. A great winter pint and perfect brew to pair with The General Assembly's winter menu offering, but we will get to that a little later.
Hawkers IPA another superb beer in the Hawkers beer range. Hawkers' co-founder Mazen Hajjar once said it was his favorite of the Hawker range, we think he is on to something. Pine, grapefruit & passionfruit aromas, with caramel and biscuit flavour, layers of hops & a good level of bitterness. I am not a huge IPA drinker, but this was one of the most exciting beers I tasted at The General Assembly.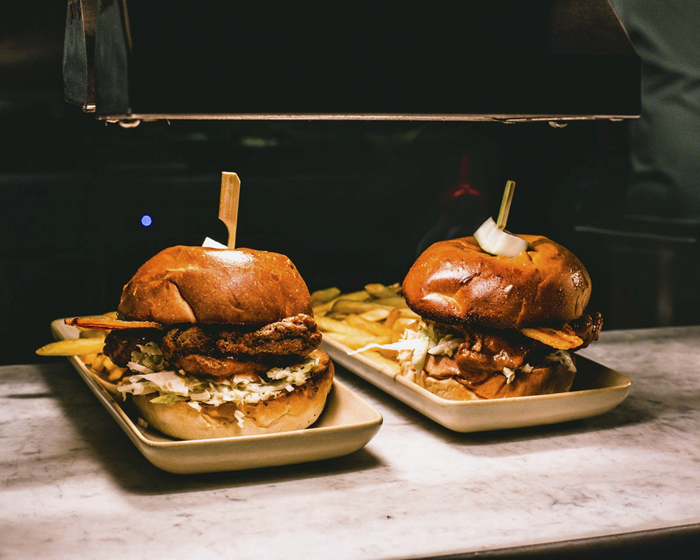 The Meal
Dinner or Lunch, The General Assembly has got you covered. Their breads and buns are available until 5pm, this is fill you up, drinking food with plenty of sides. The buffalo chicken burger is a crowd favourite, maple bacon, slaw pickles and generous side of shoestring fries. If you are more of a beef eater, their open steak sandwich is a little bit fancy, grass fed scotch fillet, soused onions tomato chutney, pea puree, arugula and shoestring fries.
Melbourne winter calls for hearty food that warms the soul, the braised beef cheek is just that & it's going to go perfectly with the Phat Mongrel we were talking about earlier. The cheek is melt in your mouth tender, rich with flavour & served with a cauliflower puree, wild mushrooms, kale & pickled cauliflower. The General Assembly has a diverse selection of big & small shares. We are talking eggplant chips, croquettes, twice cooked pork & three generous large share platters with elements such as freshly shucked oysters, wagyu pastrami & Blue D'auvergne.

The Specials
Monday – Friday
Selected Beer Jugs and Pimms Jugs 4pm- 7pm $20
Friday
2 for $20 Selected Cocktails from 5pm $20

The Music
If you have found yourself wandering along the South Wharf boardwalk on a weekend then you have likely heard the harmonic tones echoing from The General Assembly's beer hall. The venue hosts live music gigs Saturdays & Sundays, it's great to get out and support local, live music acts, all you have to do is drop in for a beer. We have included gigs for the next three weekend & there will be plenty more live music coming after that.
Saturday 15th 3-6pm Dan Poli & 7-10pm Andrew Loadsman Sunday 16th 2-5pm Tom Carty
Saturday 22nd 3-6pm Cam Tapp 7-10pm Jordan Frew Sunday 23rd 2-5pm Dan Poli
Saturday 29th 3-6pm Nick Blomfield 7-10pm L2J Sunday 30th 2-5pm Tom Carty
#SouthWharf Where The General Assembly has got you covered. Catch you down the wharf.