Wednesday December 16th, 2020
Launching this autumn, THE LUME Melbourne is set to re-ignite Melbourne's art scene thanks to a venue partnership with the Melbourne Convention and Exhibition Centre (MCEC).
THE LUME Melbourne announces its permanent home at the Melbourne Convention Exhibition Centre (MCEC), opening autumn 2021.
The move is set to scale-up Melbourne's art scene with a new, expansive cultural icon delivering an awe-inspiring adventure into art. THE LUME Melbourne transports guests into the world of the artist, bringing to life epic-scale masterpieces woven together with stunning musical soundscapes, evocative aromas and perfectly themed food & beverage offerings that can be enjoyed from inside the gallery.
The founder of Melbourne-based creators, Grande Experiences, Bruce Peterson, says THE LUME Melbourne is the answer to Australians' growing appetite for meaningful, shared, new experiences and is proud to bring this next generation, digital gallery permanently to Australia's arts and culture capital.
"The cultural scene is vastly changing as visitors demand new experiences. We have been at the forefront of this movement globally as our popular exhibitions have quickly moved from artefact based, to multimedia, to now multi-sensory / experiential. Today, we engage many more new audiences internationally in art and culture through this style of experience," he explains.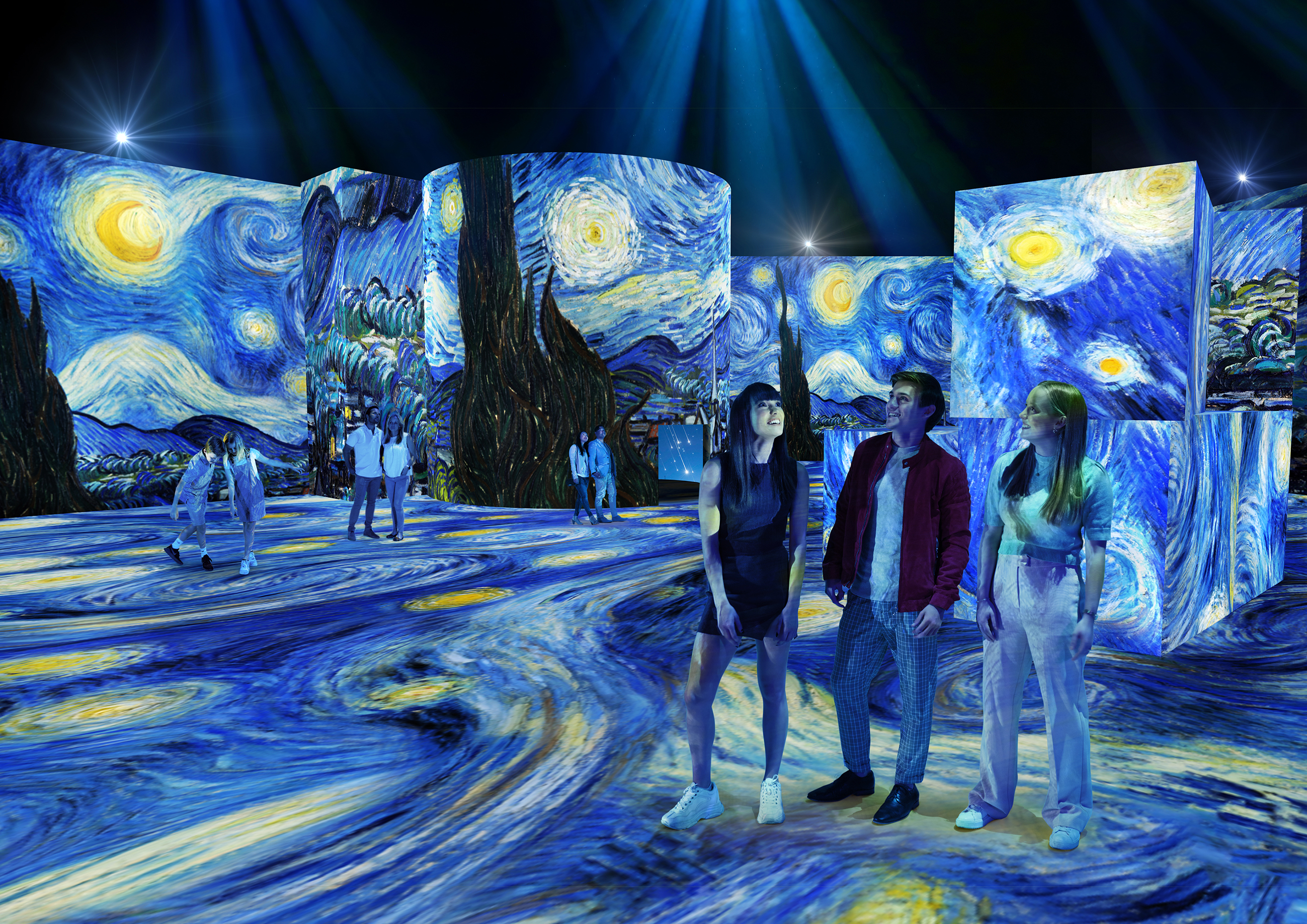 THE LUME Melbourne will make its permanent home at the Melbourne Convention Exhibition Centre (MCEC), a move which has been applauded as the "perfect fit" for Australia's digital art gallery.
Offering soaring heights and broad, uninterrupted interior vistas, the MCEC is an unparalleled canvas on which THE LUME Melbourne can create this incredible cultural experience.
Nestled in the heart of Melbourne along the bustling South Wharf precinct, MCEC offers easy access for all, as well as great transport links to the city. There is also an array of dining options in-house inspired by Melbourne's world-famous culinary scene.
Visitors can rest assured thanks to MCEC's industry leading VenueSafe (COVID- safe) plan the team have in place, including temperature checks and social distancing measures.
Chief Executive of MCEC, Peter King, said, "This partnership provides an opportunity to bring people back to Melbourne and is helping to drive economic activity back in the heart of our city.
"Through partnerships like THE LUME Melbourne, MCEC is working to attract visitors to Southbank, where they can soon enjoy an immersive experience followed by the food, wine and shopping that makes our precinct such a destination. Activity like this benefits everyone."
THE LUME Melbourne will open in autumn 2021 with its inaugural experience featuring the vibrant works of Vincent Van Gogh. His works have been displayed and enjoyed around the world for over a century – but never like this. Forget about tiptoeing through unnerving and sometimes intimidating silent galleries and viewing paintings from afar. From the moment you enter, a powerful and vibrant symphony of light, colour, sound and aromas compels you to leave the world behind and immerse yourself in Van Gogh's paintings – an experience that is simultaneously enchanting, entertaining and educational.
At THE LUME Melbourne, guests transcend time and space as they accompany Van Gogh on a multi-sensory journey through the Netherlands, Paris, Arles, Saint Rémy and Auvers-sur-Oise where he created all of his timeless masterpieces.
Visitors experience a sense of Van Gogh's thoughts, feelings and state of mind as his works come to life in vivid detail. For many, the greatest pleasure lies in simply standing still – indulging the senses as waves of sights, sounds and aromas wash over them.
THE LUME Melbourne has confirmed sessions will run into the evenings resulting in an experience perfectly suited to corporate as well as family and social events.
Ticket sales for Van Gogh at THE LUME Melbourne will open early 2021, and those interested are encouraged to visit www.THELUME.com to sign up for early access, as tickets are expected to sell out quickly.