Thursday March 16th, 2017
South Wharf boast some of Melbourne's best waterfront restaurants.
Whether you're looking to impress a tinder date, looking for a great location to share an evening with a group of friends or you're wanting to take your partner out for a great feed, South Wharf should be on your radar.
The South Wharf promenade is best highlighted at night. Lighting up the beautiful surroundings whilst seeing the city lights in all their glory. Be sure to book a spot outside. The tables are under cover and the waterfront views are totally worth it.
Here are 5 must attend waterfront restaurants on the South Wharf, in no particular order, as they're all must try.
1. Akachochin
Akachochin features some of the best Japanese sake in Melbourne. We recommend as you wait for your table to sit down at the bar and ask for a flight of sake. A sure fire way to get the night off to a great start. The team at Akachochin will explain each sake to you, the best thing is, even if you're a sake novice, the sake pros serving up the drinks will school you on the subtle differences.
Getting a spot outside on the waterfront is key. Akachochin has a beautiful waterfront view and it's truly a great vibe outside. As the sake settles in to be sure to order the Wagyu Tataki as a starter and then we recommend you try the Sashimi Moriawase.
Keep the sake rolling and Akachochin will be a night you'll remember (or not).
2. Meat Market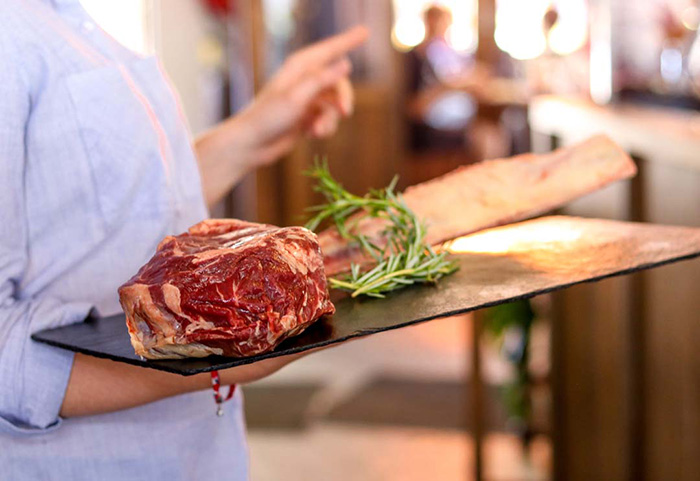 If you and your partner or group are big meat eaters this place is a MUST. Serving up what they're famous for the 1.2 kg Tomahawk Steak – this beast is one to try and tackle on your own (if you're game) or share with friends. It's almost like dinosaurs still exist. This thing is HUGE and we're still trying to figure out what animal it came from.
Whilst there's plenty of room inside, sitting outside on the waterfront is stunning. If the 1.2kn Tomahawk steak is too big to handle, we suggest getting the Pork Belly and asking the waiter to pair it with one of their top shelf wines.
3. Bang Pop
Bang Pop is a Thai street food restaurant which is sure to impress. Situated on the South Wharf waterfront Bang Pop is known for some of the best Instagram photos, It's said to be where the hashtag #FoodPorn originated from.
It's a fun, colour, action packed restaurant that we suggest you take your friends or squeeze along to. The staff are amazingly friendly and the food is second to none. Bang Pop is a place you must tick off your Melbourne waterfront bucket list.
Tip: Don't ride the bikes.
4. Munich Brauhaus
The name says it all. I think you know what you're getting your liver into before you come here. This HUGE hall also boasts a beautiful waterfront view. Unlike the restaurants above, Munich Brauhaus is not a first date spot, more a group day/night out. It's one that will get you drinking beers bigger than your head and dancing like you have never danced before.
Munich Brauhaus is the perfect setting for a group that wants to drink beers with a view. We swear you and your posse will love this place and be back again soon for round 2. A great vibe, great beers and impressive meals.
5. The General Assembly
The General Assembly boasts 49 beer taps and a killer menu that doesn't get the wrap it truly deserves. General Assembly's friendly staff know a thing or two about beer, couple that with a delicious selection of drinking food + one of the best waterfront views South Wharf has to offer, and you have yourself a winning venue.
This place caters for a quiet date, a rowdy group or a big corporate affair. If you haven't been to General Assembly we urge you to go in and try the tasting paddle to get you on your way and follow that up with a schooner of your favourite.